Pioneer Communications Sponsors New Annual Scholarship for GCCC STEM Summer Camp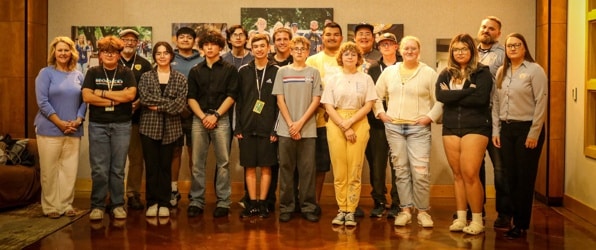 Press Release: [Garden City, KS] June 22, 2023 — The Garden City Community College Endowment Association received a scholarship donation from Pioneer Communications. Through this, a $1,000
scholarship will be awarded to the winner of the annual GCCC Title III STEM Summer camp. The
2023 scholarship winner was Perla Torres from Garden City, KS.

"Pioneer Communications knows the importance of providing hands-on learning experiences to
our young people and is proud to have helped provide this unique educational opportunity for
students in western Kansas. We look forward to continuing to partner with GCCC to make a
positive impact," said Kasey Krueger, Assistant CEO at Pioneer Communications.

Garden City Community College (GCCC), in collaboration with Fort Hays State University (FHSU),
hosted a free three-day cybersecurity STEM summer camp from June 13-15, open to high
school juniors, seniors, and GCCC first-year students. Camp participants learned computer
networking, cybersecurity, and programming through Minecraft. It was the second summer
camp through GCCC's Title III STEM Grant to expand science, technology, engineering, and
mathematics (STEM) at GCCC.
Photo 1 (L-R): Yuriy Drubinskiy, Assistant Professor of Robotics, GCCC; Kasey Krueger, Assistant CEO, Pioneer Communications; Scott Kedrowski, Dean of Advancement and Alumni Relations, GCCC.
Photo 2 (L-R): Ashley Winger, Title III Activity Director, GCCC; and Perla Torres, 2023 STEM Summer Camp Scholarship Winner.

"This year's camp was a unique opportunity for students to investigate STEM careers within
cybersecurity and computer science. During the three-day camp, students learned concepts in
building a network, creating a server, programming, coding, and extensive game development
through the popular game Minecraft. It's always a good day on campus when we can showcase
our incredible facilities and instructors," said Ashley Winger, Title III Activity Director at GCCC.
She continued, "Additionally, it provided another opportunity to strengthen our partnership
with Fort Hays State University and share more information with students on transfer options
beyond Garden City Community College. We couldn't have been more pleased with this year's
turnout. A special thank you to Fort Hays State University professors Jason Zeller and Kevin
Shaffer, and our GCCC professors Yuriy Drubinskiy and Mazen Nairat for putting together this
experience for our southwest Kansas students."

For more information or questions, please contact Ashley Winger at 620-276-0420 or
ashley.winger@gcccks.edu.

Make a difference for future Busters by starting your own Endowed Scholarship through the
GCCC President's Scholarship Initiative! From HERE, you can go ANYWHERE.

About Pioneer Communications:
Pioneer Communications is a cooperative-owned telecommunications company based in
Ulysses, Kansas that has been connecting rural Kansas communities to the world for more than
70 years. Our service area spreads across a large portion of Southwest/Western Kansas from
Sharon Springs and Garden City to Coolidge and Richfield, and everywhere in between. We love
the area, love the people, and love providing the best service in Southwest Kansas. Learn more: https://www.pioncomm.net .