Unique scams to watch for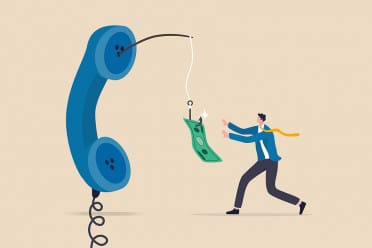 Scammers are becoming more sophisticated by the day. Last year alone, Americans lost 30 billion dollars in phone scams and 55 billion in identity fraud to scammers. Here are some common scams to watch out for in 2022.
Charity scams
Scammers impersonate genuine charities and ask for donations or contact you claiming to collect money after natural disasters or major events. Approach charity organizations directly to make a donation. If you're donating online, make sure the webpage you enter payment information has "https" in the web address.
Social engineering scams
Scammers research your social media pages so they can tailor a scam to you. This process can take place in a single email or over months in a series of social media chats. It ultimately concludes with an action you take, like sharing your information or exposing yourself to malware. Never click on links in emails or messages and always remember to use multi-factor authentication and strong passwords. It's also important to avoid sharing personal details like names of schools, pets, place of birth, etc., as these could be security questions or parts of your password.
Census-related scams
Some scam artists may pretend to be work for the Census Bureau. Their goal is to collect your personal information to use for fraud or to steal your identity. These scam artists may send you letters that or come to your home. Never share your full Social Security number, bank or credit account numbers, or your mother's maiden name. The Census Bureau won't ask for this type of identification. This agency uses postal mail to invite individuals to take part in its surveys, so never trust email claiming to be from the Census Bureau.
Coronavirus scams
During the COVID-19 pandemic, scammers may try to take advantage of you. Some scammers target Medicare recipients, offering COVID-19 testing in an attempt to steal personal information. Others claim they're from the IRS or another government agency. They ask for your personal information to charge you fake fees for getting your stimulus check or offer you a way to get money early. Never share personal information like your bank account number, Social Security number, or date of birth.
Learn how to protect yourself from and respond to scams and frauds at www.usa.gov/scams-and-frauds, an official website of the United States Government.